East Meets West in Greece is an initiative recently established in Athens. In a recent Memorandum of Understanding that was signed in September 2018 in Beijing within the framework of the 5th International Symposium on Cultural Heritage Conservation and Digitization (CHCD) among academic institutions and SMEs of China and Greece (Tsinghua University/THID and NTUA/PostScriptum) the main goal established is the collaboration of the involved parties in the cultural sector and especially in the promotion of cultural heritage through digitization of cultural resources.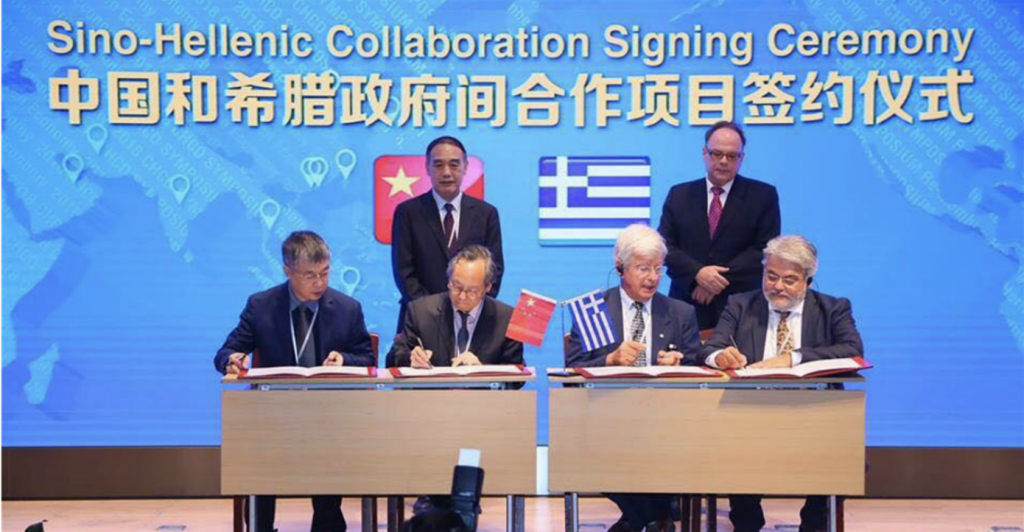 Moreover, over the last year, PostScriptum, a company based in Athens is operating as an official delegate of Europeana in China and for the promotion of cultural heritage of the BRI countries.
Within this framework EMWG initiative aims to boosts European Culture's attractiveness to China and BRI countries in a digital, interactive and immersive audiovisual edutainment way with social and economic impact. On the other hand, it welcomes Chinese Digital Culture's Ecosystem to Greece and Europe. As for the beginning, NTUA and PS support this initiative and invite you to be a part of it.
On behalf of the Greek side several stakeholders are being involved (Ministry of Digital Policy, EKOME, Ephorate of Antiquities of Ilia) while the parties involved from the Chinese side are the Chinese Academy of Social Sciences, the China National Center for Culture Studies, Beijing, University of Posts and Telecommunications, Tsinghua Institute of Heritage Digitization and Beijing Recursion Technology Ltd., aiming at a closer collaboration in the digital culture sector.
The main principles of the EMWG initiative are:
International collaboration in the digital culture and the potential of connectivity offered and promoted by China via the BRI policy.
Preservation and promotion of the tangible and intangible cultural heritage through digitization and emerging technologies in audiovisual media.
Interoperability with mega platforms in order to facilitate the dissemination of the content produced to the wider audience with a concrete added value to parallel actions. The Chinese side, taking into account this approach has already started the construction of a thematic park in Ningbo, where audiovisual productions of mythological content will be screened.
Connection with the Cultural Industries and the tourism market.
Conception and design of actions with a wider appeal such as the Olympic Games and Education, a theme the Chinese side has already embraced and showed interest for audiovisual and interactive productions on the occasion of the Winter Olympics that will take place in Beijing in 2022.
In the same manner the EU-China collaboration is offering a potential for the know-how transfer and the dissemination of Europeana, the cultural repository of Europe to China, while the promotion Chinese digital assets from museums and collections based in Europe is further supported and promoted for the digital cultural presence of China to Europe.